Any Two Cards is Atlanta's hottest poker league started in 2008, offering poker players a chance at more than $300,000 in cash and prizes each year.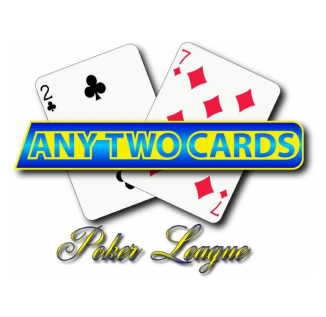 Any Two Cards will host each year an event called "The Annual Main Event" with a total prize payout of $10,000! To qualify for this event, players play at venues each month and earn points. The top 200 players in points each month are invited to play in a monthly tournament with a prize of $2000 with prizes starting at $25 for 20th place to a prize of $675 for first place.
The top 20 players from each monthly are then invited to the Annual Main Event with $10,000 pay out starting at $500 for tenth place to $3000 for first place.
Players that do not qualify have a second chance to enter the Annual Main Event. A player can purchase a platinum card at a cost of $300, earned at least 300 points at any venue during the year and are invited to the Main event. A player must have a valid player number and the required 300 yearly points to purchase the platinum card.
Venue events are held daily (see Schedule), Monthly events are held the second weekend in each month and the Annual is on the third weekend in August.
Players are offered additional events to earn cash such as two Red Card Tournaments ($500), two Gold Card Tournaments ($1000), two Platinum Card Tournaments ($3000), Dealers Tournaments ($500) and Ladies / Mens Tournaments ($1000).
---
Any Two Cards Poker League offers three exciting levels of membership!
Any Two Cards offers three different levels of membership so you can be sure that you get the membership that suits you best. If you are a casual player who enjoys the game from time to time you may prefer the FREE basic membership – there is no charge or obligation to play in an Any Two Cards event!
If you are more serious about the game and want to keep your deck as stacked as possible you will want to become a gold or platinum member. All the details are a click away. You can sign up at the next event and enjoy all the perks of Any Two Cards membership!
Become a member